Acesonic BDK-2000 Blu-Ray Disc Multimedia Karaoke Player Review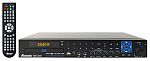 The Acesonic BDK-2000 is the only karaoke CD+G disc player that plays Blu-ray discs. It also supports a large number of disc and file types. The ability to play MP3+G files from any USB device or hard drive is a huge plus. The CD+G ripping feature, combined with the song file indexing feature, can allow you to have a disc-free system if you prefer. Multiple audio and video output options make it easy to connect this player to any entertainment center or PA system.
Supported Disc Types
Plays Blu-ray, CD, CD+G, DVD, and VCD discs as well as recordable media BD-R, BD-RE, CD-R, and CD-RW.
Supported File Types from USB
Plays AVI, DAT, DivX, MKV, MOV, MP3, MP3+G, MP4, MPEG, WAV,and WMA files.
USB Storage Device Support
The USB port can be used to connect to any USB storage devices from a thumb drives to a hard drives over 2TB. This means you can store your entire music and video library on a hard drive (or multiple hard drives if a USB hub is implemented).
CD+G Ripper
Rip songs from CD+G discs to a USB storage device in the MP3+G format at 4x speed.
BD-ISO & DVD-ISO Support
You can use your computer and the proper software to create an ISO image file of your Blu-Ray and DVD discs and save them to a USB hard drive. You can then play them with the Acesonic BDK-2000 without needing to load the disc. A good freeware application for creating ISO image files is
ImgBurn
.
Song Indexing
The song indexing feature lets you organize your song files into folders that may contain 9,999 songs each. When the songs are ripped to the folders they will be assigned a sequential number up to 9999. This system makes it easy to find and cue up songs.
Microphone Inputs
There are two microphone inputs with echo, bass, and treble settings and separate volume controls.
During our research we came across numerous consumer complaints about the poor quality of the echo effect.

Digital Key Control
This allows you to adjust the key of the music to suit your voice without changing the tempo. The adjustments are in half key steps up or down (sharp or flat).

MPX Button
There is a type of karaoke CD+G disc called "multiplex". The songs on these discs are split into left and right stereo channels. The left channel contains only the lead singer while the right channel contains only the music. The MPX button will switch between the Left Mono, Right Mono, or Stereo (mixed) audio during playback.
Performance Recording
Record your karaoke performance while singing along with a disc or song file and save it to a USB device as an MP3 file.
Remote Control
The remote will control most of the player's functions and on-screen commands.
Audio Outputs
You have a choice of Left and Right RCA stereo, Optical, Coaxial, and HDMI outputs. RCA audio and HDMI can be used simultaneously.
Video Outputs
Component video, RCA video, and HDMI which can be used simultaneously.
Pros:
Only CD+G player that plays Blu-ray discs. Plays MP3+G and other files from a USB storage device. Supports large USB hard drives. Rips songs from CD+G discs to MP3+G files. Records karaoke performances. Microphone sound adjustments. Plenty of audio and video output options
Cons:
Does not create a song list that can be exported and printed. The microphone echo effect is poor quality. The instruction manual could be more informative and novice friendly.
Summary:
The Acesonic BDK-2000 Blu-Ray Disc Multimedia Karaoke Player could easily replace the DVD player in your entertainment center while adding fully featured karaoke functionality. Making use of the CD+G disc ripping feature, and a USB hard drive, you could create disc free operation. No other karaoke player has more features than the BDK-2000 which can make it appear complicated to operate. It doesn't help that the user manual is poorly written.
Download Acesonic BDK 2000 User Manual
---
Buy this item now at...
---
Comment about this item: