Acesonic DGX 213 HDMI Multi Format Karaoke Player Review

This machine supports the common karaoke discs types such as CD+G, DVD, and VCD. Equally important is its ability to play MP3+G files from an SD card or USB device. MP3+G karaoke songs can be purchased, downloaded (with a computer), copied to an SD card or USB thumb drive, and ready to play in a matter of a few minutes. Ripping your most frequently played songs from your CD+G discs as MP3+G files to a storage device will eliminate the need to load the discs. Singing performances can be recorded and saved to an SD card or USB device for playback on this player or to share with others.
Supported Disc Types
Plays standard CD, CD+G, DVD, MP3, MP3+G, and VCD discs.
Supported File Types from SD Card or USB Device
Plays AVI, DivX, MP3, MP3+G, and MP4.
Digital Recording
Record your singing performance while singing to a CD, CD+G, DVD, or MP3+G disc and save it to an SD Card or USB device.
CD+G to MP3G Converter
Convert all the songs from your CD+G discs and store them on SD Cards, USB flash drives, or a USB hard drive (supports up to 5,000 songs per device). This will save you from having to load discs into the player. Convert entire discs or only the song tracks you want. Bitrate is selectable as well as 1x or 4x rip speed.
CD+G discs contain only a disc ID and do NOT contain song title and artist information. As a result, the songs ripped from CD+G discs are not automatically named by song title or artist. They are given a number. You can access the storage device with a computer and manually name the song files.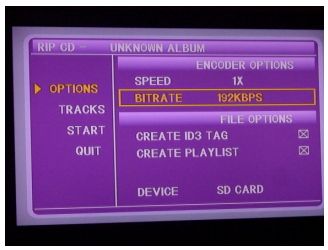 Digital Key Control
This feature allows you to change the key of the song up or down by half key steps without changing the tempo of the music.
Scoring Function
When you sing with the scoring function on, the score will show on screen. Works only when using a CD+G disc.
Microphone Inputs
There are two microphone inputs with separate volume controls and echo effect control.
Remote Control
The remote will control most of the player's functions and on-screen commands.
Video Output Options
There are HDMI, Composite Video, S-Video, Component Video, and VGA Video outputs that make it easy to connect this player to virtually any monitor or TV.
Audio Output Options
There are RCA 2 Channel (L/R), 5.1 Channel, Optical, and Coaxial audio outputs to accommodate connecting to various sound systems.
Pros:
Plays MP3+G files from an SD card or USB device. Rips songs from CD+G discs to MP3+G files. Records karaoke performances. Numerous audio and video connection outputs including HDMI.
Cons:
Does not play Blu-Ray discs. Buttons and knobs are small and their text can be difficult to read for some. Supports indexing a maximum of only 5,000 songs on a USB drive.
Summary:
The Acesonic DGX 213 HDMI Multi Format Karaoke Player is better suited for the home user than the professional KJ. The reasons being that it will support only 5,000 files from a storage device and the fact that the disc load time is too slow for karaoke show conditions. For the home user, with smaller song libraries, this player can allow you to perform karaoke disc free. It also opens up the option for you to be able to purchase and instantly download individual MP3+G karaoke songs (with a computer), copy them to an SD card or USB device, and play them without the need to create a disc from them. This is an inexpensive karaoke player so don't expect it to be of the highest quality, but with the number of great features it offers, we feel it's a good value.
Acesonic DGX 213 User Manual
---
Buy this item now at...
---
Comment about this item: