Akai Karaoke KS800 Front Load CD+G Karaoke System Review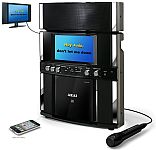 This is not a bad system for the price. It has decent sound, a color monitor, and some features found on professional units. The ability to play MP3+G song files makes this machine stand out from others in this price range.
Disc Types Supported
The Akai Karaoke KS800 plays standard audio CDs, MP3 discs, karaoke CD+G discs, and MP3+G discs. CD+G and MP3+G disc songs contain music and graphics in the form of still images and shading in lyrics. CD+G is the most common type of karaoke disc and can be purchased from many department stores, however, the largest selection will be found online. All genres of karaoke music can be purchased on CD+G discs. MP3+G (sometimes referred to as MP3G) songs are simply the compressed computer file version of songs from CD+G discs. Much like an MP3 is a compressed computer file version of regular CD songs. MP3+G discs are becoming more popular because over 100 songs can fit on a CD. Also, you can create your own MP3+G discs from downloaded MP3+G files by simply burning them to a CD-R as data.
Disc Player
This is a front loading unit. You will manually pull the CD door open, load a CD onto the spindle, and close the door. The machine will automatically start reading the disc. Disc type and track number will be displayed near the top of the monitor. There are buttons for selecting the track number to play.
USB Port and Features
There is a USB port on the front of the unit for inserting a USB thumb drive. This serves a double purpose. When you record a singing performance while playing a disc the recording can be saved to a USB thumb drive as an MP3 file. Also, MP3 and MP3+G files may be played from a USB thumb drive.
Recording a Performance
You can record your singing performance (vocals and music) and save the recording to a USB thumb drive as an MP3 file. The MP3 file can be played back with the machine or used to share with others.
7 Inch Color Monitor
The 7 inch color screen will display the song lyrics when playing a CD+G or MP3+G disc only. This screen size is quite adequate for displaying readable lyrics.
Digital Key Control
This feature allows you to adjust the key of the music up or down by half key steps without affecting the tempo. There are
+
and
-
buttons for making the adjustment.
Microphone and Controls
There are two 1/8" microphone inputs on the back of the machine. There is a single volume control that controls both microphone inputs. The echo effect control also affects both microphone inputs.
Echo is a a vocal enhancement that adds depth to the vocals
. The balance knob allows to adjust the music to microphone volume ratio. This unit comes with one microphone but virtually any microphone with a 1/8" plugin can be used as a second one.
A.V.C. (Automatic Voice Control)
There is a type of karaoke CD+G disc called "multiplex". The songs on these discs are split into left and right stereo channels. The left channel contains only the lead singer while the right channel contains only the music. With a balance control you are able to mix the left and right channels to allow just enough lead vocals to help you learn to sing the song. The Automatic Voice Control feature automatically mutes the lead vocals channel when you start to sing through the microphone. When the singer stops singing, the vocals will resume to normal.
Audio/Video Outputs
On the back of the unit there are audio and video RCA outputs. These allow you to connect this machine to a TV and/or sound system. You may then play the audio (including the microphones) through your home stereo and display the lyrics on your TV.
Line In Input
The Line In input on the front of the unit allows you to connect an external audio source such as an iPad, iPod, or iPhone. You can play audio only from these devices but nothing will appear on the karaoke machine's monitor. There is a cradle on the top of the machine for holding a mobile device.
Power Supply
This unit does not run on batteries. It uses a 12 volt AC adapter that must be plugged into a wall outlet.
Included Accessories
One AV Cable, one Dynamic Microphone, AC-DC Power Adaptor, and User Manual.
Pros:
Good sound quality. Plays CD+G discs. Plays MP3+G discs and files. The 7" monitor is larger than found on many other comparably priced systems. Digital key control like that found on professional karaoke machines. Ability to play music from mobile devices and a USB thumb drive. Performance recording feature.
Cons:
Does not run on batteries. The ability to play video files from the USB would have been nice (but maybe we're just asking for too much).
Summary:
The Akai Karaoke KS800 Front Load CD+G Karaoke System is a surprisingly well featured machine for what it cost. Sound from the internal stereo speakers is not bad but don't expect a lot of volume as this unit has only a 5 watt output. Of course you can get around this by connecting it to another sound system. The 7" color monitor is bright and easy to read. Support for MP3+G is a bonus for sure. We don't think you are going to find a better or more fully featured all-in-one karaoke system at the price this one goes for.
Akai Karaoke KS800 User Manual
---
Buy this item now at...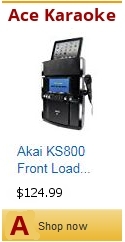 ---
Comment about this item: