Alesis Multimix 4 USB FX Review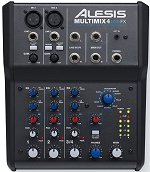 This four-channel audio mixer offers a USB digital audio interface that allows you to mix live and record audio directly to a computer. It is ideal for the home user who wants to use their computer as a karaoke player. It is also perfect for those who record online and would like to be able to use a condenser microphone and/or enhance their vocals with the built in effects processor.
Microphone (Mono) Inputs Channels
There are two microphone channels that offer either a balanced XLR
or
1/4" TS input (both may not be used at the same time). The XLR input will provide 48V power for condenser microphones. These channels offer Gain, High and Low EQ, Pan, FX, and Volume Level adjustment knobs.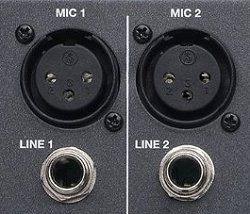 Stereo Line Inputs
The stereo channel has two 1/4" line level inputs for left and right channels. This is where you would input the audio from CD player, karaoke machine, etc.. This channel offers High and Low EQ, Pan, FX, and Volume Level adjustment knobs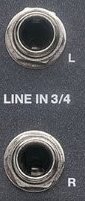 USB Input
The best option for connecting the mixer to a computer, this bi-directional connection will allow you to input a digital quality signal to the mixer and also return the main mix to the computer for making high quality recordings.

Main Outs
The main outs are 1/4" Left and Right unbalanced outputs used to send the main mix signal to an amplifier or powered speakers.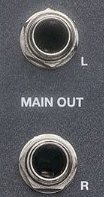 Phones Jack
The 1/4" Phones jack is for your stereo earphones and has its own volume control.

DSP Effects
There are built-in DSP effects that include reverbs, delays, phasers, and much more to add depth to your live sound and ambiance to your vocals. Each channel has its own effects strength adjustment.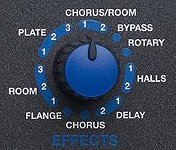 Pros:
USB connectivity. Phantom power for condenser microphones. Two XLR mic inputs. Built-in effects processor. Well constructed. Reasonably priced.
Cons:
Even with the USB connectivity it would have been nice if RCA stereo inputs were included.
Summary:
The Alesis Multimix 4 USB FX is a basic and easy to use mixer that has just the right features to make it an excellent component of a home karaoke system... especially if you are using a computer as the player. It will work well with virtually any power amp or powered speakers. For those who record online at a website like SingSnap or others, this mixer can greatly improve that experience by allowing you to add effects to your vocals and to use a condenser microphone which is typically better for recording.
Alesis Multimix 4 USB FX User Manual
---
Buy this item now at...
---
Comment about this item: