Audio 2000 AKJ7809 Singer's Power IX All-In-One Karaoke Machine Review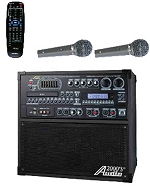 The Audio 2000 AKJ7809 is a portable karaoke system with some serious power and many great features. It supports several disc and file formats but lacks support for a very important one... MP3+G. This system can double as an amplifier for a guitar or other instruments. Two inexpensive wired microphones and a remote control are included.
Disc Types Supported
Will play CD, CD+G, DVD, DivX, MP3, MP4, Photo-CD, and VCD discs as well as recordable media CD-R, CD-RW, DVD-R and DVD-RW. Unfortunately, it does not support MP3+G discs.
File Types Supported from SD Card and USB Flash Drive
Will play AVI, DAT, MP3, MP4, MPG, and WMA files. Unfortunately, it does not support MP3+G files.
Internal Amplifier and Speakers
The 100 watt amplifier drives four built in speakers (two 4" and two 3"). These produce good sound quality and enough volume to cover most home karaoke parties. You have the option to connect additional
powered
speakers to the system.
7 Band Graphic Equalizer
A graphic equalizer is an audio control that allows you to fine tune the master audio by adjusting frequency levels.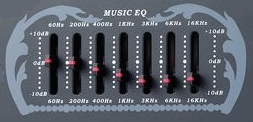 Graphic Display
Panel displays all graphical information regarding system operations, settings and performance.

Microphone Effects
Allows you to modify the tone of the microphone output and add echo effects with strength, repeat, and delay adjustments.

Digital Key Control
This allows you to adjust the key of the music to suit your voice without changing the tempo. The adjustments are in half key steps up or down. Center button resets to original key.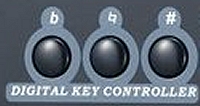 Vocal Cancel and Vocal Partner
There is a type of karaoke CD+G disc called "multiplex". The songs on these discs are split into left and right stereo channels. The left channel contains only the lead singer while the right channel contains only the music. With a balance control you are able to mix the left and right channels to allow just enough lead vocals to help you learn to sing the song. The
Vocal Cancel
button switches between lead vocals and no lead vocals. The
Vocal Partner
button works with the microphone input and automatically mutes the lead vocals while you are singing and turns them back on when you stop.

Microphones
System comes with two Audio 2000 AKJ7809 wired dynamic microphones with 20' cables.
Microphone Inputs
On the front of the machine there are 1/4" inputs for microphone 1 and microphone 2 with separate volume controls. On the rear of the machine there are balanced XLR microphone inputs for microphone 1 and microphone 2 which are affected by the same volume controls. The tone and echo effects are sent to all four microphone inputs.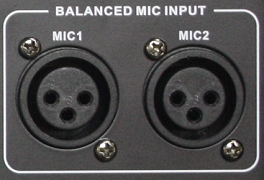 Guitar and Keyboard Inputs
There are two 1/4" inputs for connecting a guitar and/or keyboard to the system. They each have a volume control and it is possible to send the echo effect to these inputs.

Record to SD Card or USB
While singing along to a disc, and having an SD Card or USB flash drive inserted, you can use the REC button to record your singing performance. The recording will be saved as an MP3 file which can be played back on this machine or saved for any other purpose.

Audio and Video Inputs
These selectable input channels will allow the connection to external devices (such as a laptop computer for example).
Video Outputs
This machine must be connected to a TV or monitor in order to view the graphics from CD+G discs or the video from other discs and file types. There are composite video (Single RCA), component (YPBPR) RCA, and S-Video output connections that will allow to connect to virtually any TV. There is no HDMI output.
Mixed Audio Outputs
There are several audio output options. RCA left and right stereo, 1/4" left and right stereo pre-outs, and balanced XLR left and right stereo (perfect for connecting to powered speakers). There are also DVD audio outputs for 5.1 or 7.1 configurations.
Remote Control
The remote will control most of the system's functions.
Pros:
Plays CD+G discs as well as DVD and other disc types. Comes with 2 microphones with cables. Good power and sound quality. Easy to use recording feature. Great assortment of audio and video output connections. SD card and USB device inputs.
Cons:
Does not support the MP3+G format. No HDMI output.
Summary:
The Audio 2000 AKJ7809 Singer's Power IX All-In-One Karaoke Machine delivers plenty of power for home karaoke parties while remaining easily portable. It can double as a guitar or keyboard amplifier as well as a PA system for your laptop. We covered only the basic features here. The user manual is well written with many illustrations.
Download Audio 2000 AKJ7809 User Manual
---
Buy this item now at...
---
Comment about this item: