Audio2000s AWM6032U UHF Dual Channel Wireless Microphone System Review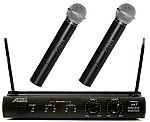 Features:
UHF Band 530MHz-695MHz
Operation Range: 300ft Outdoor, 150ft Indoor
Two Independent XLR Balanced Outputs
One 1/4" Unbalanced Audio Output
Low Noise Mixer Circuitry for Reducing interference
Two Squelch Control Knobs (One for Each Channel) at the Rear Panel
---
Our Review:
The Audio2000s AWM6032U Wireless Microphone System is a solid performer and economically priced. Surprisingly good sound for a wireless system in this price range. The UHF frequency band is preset so you will want to make sure that this will not interfere with other UHF wireless equipment you may be operating along side these.
Two Independent XLR Balanced Outputs vs One 1/4" Unbalanced Audio Output
Using two separate XLR cables, and the XLR balanced outputs, you can have each handheld microphone assigned to a different channel of your mixer. This allows you to control the volume, tone, and effects for each microphone separately. Using the 1/4" unbalanced output forces you to assign both microphones to a single mixer channel.
Squelch Control Knobs
There are squelch controls for each microphone receiver. These adjust the sensitivity of the receiver and allow you to filter out weaker signals that may be causing interference.
Pros:
Good vocal reproduction. Adequate range indoors and outdoors. Easy to set up. Good overall value
Cons:
Light weight transmitters don't feel very substantial. Not true diversity.
Audio2000 AWM6032U User Manual
---
Buy this item now at...
---
Comment about this item: