Behringer Eurolive B212D Loudspeaker Review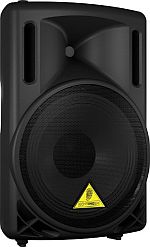 The Behringer Eurolive B212D speakers are very light weight and compact. A good combination for use with a mobile karaoke system. The molded ABS cabinet is designed to allow for several types of positioning which adds to the versatility of this speaker. This powered two-way speaker has good power with a Class-D amplifier that emits 550 watts peak. These entry level speakers reproduce good high and mid range frequencies. At lower volume levels the lower range was satisfactory, but starting in the 70% to 80% volume level there was noticeable hum. We know not to expect brilliant bass from a 12" woofer so overall this speaker should perform well in smaller sized venues. On the rear of the Behringer Eurolive B212D you will find an XLR input as well as a 1/4" TRS input. An XLR output is provided for speaker chaining. There is a volume level control for the inputs and hi and low EQ controls. On the bottom there is a standard 35-mm pole socket for mounting on a speaker stand.
Pros:
Good power and fair sound quality. Versatile cabinet design. Both XLR and 1/4" inputs. Compact size and light weight. Inexpensive.
Cons:
Bass hum at higher volume levels.
Karaoke Suitability
A pair of Behringer Eurolive B212D speakers, in conjunction with an audio mixer with on-board effects, should make for a good sounding karaoke system for smaller venues and home systems. They could be used for larger venues if you incorporate a subwoofer.
Download Behringer Eurolive B212D User Manual
---
Buy this item now at...
---
Comment about this item: