Behringer Europower PMP2000 Powered Mixer Review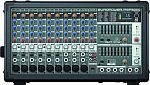 At just 18 inches wide and 11 inches tall the Behringer Europower PMP2000 is truly a compact unit. Fortunately they did not skimp on features to achieve this compact size. It delivers plenty of power for small to moderately sized venues. We found it to produce crisp and clear sound and to be constructed of good quality components. You have a choice of 2 x 350-Watt stereo, 2 x 350-Watt dual mono or 800-Watt bridged mono sound. This unit features 9 built-in, high-quality mic preamps and 4 stereo channels. XLR inputs supply phantom power for condenser microphones. There are CD/Tape RCA inputs to feed in external stereo signals from CD players, karaoke players, or a computer. CD/Tape RCA outputs send line-level signals from the mixer to a recording device. A studio grade 24-bit Multi-FX processor gives you 100 digital effect presets such as delay, chorus and reverb. The effects can be applied to any channel, as well as to the monitors and main output. Dual 9-band graphic EQs allow for high-quality sound and feedback-free operation. Powered outputs are of the professional, twist-lock Speakon compatible type.
Pros:
Plenty of preamp inputs. 24-Bit effects processor. Compact size and light weight.
Cons:
Offers only Speakon power outputs.
Summary:
The Behringer Europower PMP2000 is a good entry level powered mixer with enough power for small to medium sized venues or home use. A good speaker match for this unit would be a pair of
Behringer Eurolive B212XL
passive PA speakers. This unit offers only Speakon powered outputs which means you will not be able to connect to passive speakers with 1/4" TS or XLR cables. The built in effects are good quality and easy to operate.
Download Behringer Europower PMP2000 User Manual
---
Buy this item now at...
---
Comment about this item: