Behringer XENYX 1002 Mixer Review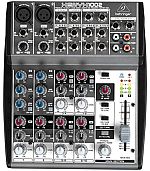 If you're looking for a basic, inexpensive, mixer to run your karaoke player and microphones through, the Behringer XENYX 1002 could be just what you want. It supplies phantom power for condenser microphones through the XLR input. There are no on-board effects although it does offer an effects send for an external effects device.
Microphone (Mono) Inputs Channel
There are two microphone channels that offer either a balanced XLR
or
a balanced/unbalanced 1/4" TRS input (both may not be used at the same time). The XLR input will provide 48V power for condenser microphones. These channels offer Gain, High, Mid, and Low EQ, Pan, FX, and Volume Level adjustment knobs.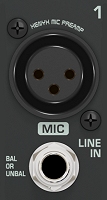 Stereo Line Inputs
Each of the four stereo channels has two balanced line level inputs on 1/4" jacks for left and right channels. If only the jack marked L (left) is used, the channel operates in mono. The stereo channels are designed to handle typical line level signals. Both inputs will also accept unbalanced jacks. There are Balance, FX, and Volume Level controls for each channel.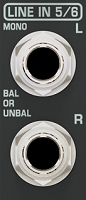 CD/TAPE Input and Output
The RCA inputs are used for connecting an external audio source such as a CD player, karaoke machine, or laptop. The RCA outputs are wired in parallel with the Main Out are commonly used to connect to a recorder.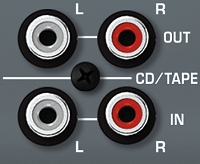 CD/TAPE TO MIX Button
When the CD/TAPE TO MIX button is depressed, the CD/TAPE input is assigned to the main mix providing an additional input for other signal sources that do not require any processing.
CD/TAPE TO CTRL ROOM Button
This provides an easy way to monitor signals coming back from the CD/TAPE Output to ensure that they are recording correctly.

Main Outs
The main outs are 1/4" Left and Right unbalanced outputs controlled by a MAIN MIX volume slider (fader).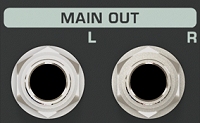 Phones Jack
The 1/4" Phones jack is for your stereo earphones.
CTRL Room Outs
The CTRL Room Outs are 1/4" Left and Right unbalanced main mix outputs controlled by a PHONES-CONTROL ROOM volume knob.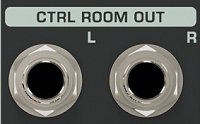 FX Send
The FX sends of the XENYX mixing consoles are intended to drive effects devices (reverb, delay, etc) and are therefore configured post-fader. This means that the mix between dry signal and effect remains at the level determined by the channel's aux send, irrespective of the channel fader setting.
Pros:
Phantom power for condenser mics. Two XLR mic inputs. Quiet output signal. Well constructed. Very reasonably priced.
Cons:
No on/off power switch. No balanced XLR main outs. No on-board effects.
Summary:
The Behringer XENYX 1002 is a good quality, well constructed, audio mixer that would make a fine addition to a home karaoke system. Professionals may want to look for something a little higher quality. The two mono microphone channels should be sufficient for most karaoke systems. While this mixer will accept an external effects processor, we would instead recommend spending another $20 on the
XENYX 1002FX
with on-board effects.
Behringer XENYX 1002 User Manual
---
Buy this item now at...
---
Comment about this item: