GTD Audio G-622H 200 Channel UHF Wireless Microphone System Review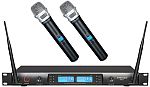 Features:
100 Selectable frequencies on each channel, up to 30 units can be used simultaneously
Automatic frequency scanning to find and set the best available channel
Automatic transmitter setup, the channel of the transmitter and receiver can easily synchronize
Back-lit LCD display showing RF level
Individual volume control on each channel
Built-In Tone Lock Squelch circuit protection from RF interference
Two XLR individual outputs and one 1/4" Mixed output
Range: up to 500 Feet
Frequency: UHF 610MHz - 680MHz
---
Our Review:
The GTD Audio G-622H Wireless Microphone System is a solid performer. The multiple selectable frequencies assure that you will be able to avoid interference with any other UHF equipment you may have. Perfectly suitable for your professional or home karaoke system.
Two Independent XLR Balanced Outputs vs One 1/4" Unbalanced Audio Output
Using two separate XLR cables and the XLR balanced outputs you have each handheld microphone assigned to a different channel of your mixer. This allows you to control the volume, tone, and effects for each microphone separately. Using the 1/4" unbalanced output forces you to assign both microphones to a single mixer channel.
Range: up to 500 Feet
The 500 feet would be outdoors line of sight. Expect an indoor range of up to 150 feet.
Tone Lock Squelch
Automatically prevents radio frequency interference from being heard in your audio system when your transmitter is turned off. Some receivers will have manual squelch controls for this.
Pros:
Good vocal reproduction. Adequate range indoors and outdoors. Easy to set up. Good overall value. Uses AA batteries instead of more expensive 9 volt.
Cons:
Light weight transmitters don't feel very substantial. Not true diversity.
---
Buy this item now at...
---
Comment about this item: