Hisonic HS8286 VHF Dual Rechargeable Wireless Microphone System Review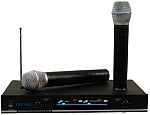 Features:
Hi-Fi Sound Quality
5-7 Hours continuous use if fully charged.
Unidirectional dynamic microphones.
One 1/4" Mixed and Two XLR Individual Outputs.
Microphones have 3 position switch and low battery LED indicator.
Fluorescence display screen.
Separate volume controls for each channel.
Range: up to 200 feet indoor - 400 feet outdoor.
---
Our Review:
The Hisonic HS8286 VHF Wireless Microphone System certainly fits into the "you get what you pay for" ideology. It is immediately evident that they are cheaply made. Vocal reproduction and pickup is poor. Included rechargeable batteries are low quality. If you're looking for an inexpensive wireless microphone system for the kids to play around with then these may do the trick.
Rechargeable Batteries
There are numerous reports that these batteries do not hold a charge as long as advertised. Fortunately you can use AA alkaline batteries instead.
Just don't attempt to charge the alkaline batteries.
Two Independent XLR Balanced Outputs vs One 1/4" Unbalanced Audio Output
Using two separate XLR cables and the XLR balanced outputs you have each handheld microphone assigned to a different channel of your mixer. This allows you to control the volume, tone, and effects of each microphone separately. Using the 1/4" unbalanced output forces you to assign both microphones to a single mixer channel.
2 Channel Receiver
Channels are set and not selectable. Keep this in mind when adding this wireless system to a sound system where other UHF devices will be used concurrently. Make sure the frequency bands do not overlap.
3 Position Switch
The handheld microphone switch has Off, Standby, and On positions.
Pros:
Easy to set up. Inexpensive.
Cons:
Very cheaply made. Poor quality sound.
---
Buy this item now at...
---
Comment about this item: