JustKaraoke Review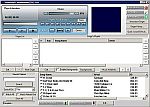 Features:
Singer Rotation
Singer Announcement
Singer History
Song Manager (for Download and Streaming)
Ambient Music List (w/ Auto Management)
Request Tool Server (for use with *Super Remote Request Tool)
Resizable Interface
Customize Announce Singer
Customize and Select Logos and Backgrounds
Auto Gain Control (live normalize and compress)
Single Player with Preview Screen
Dual Monitor Support
Key Control in Semi-Tones (Half-Keys)
Multiplex Options
Easy Search and Database Lookup
Quick Sound Effects
Hot Keys
Venue Filter Management
Next Singer Ticker
Keep Playing continuous mode
Auto play with Countdown (Next Start Timer)
Auto Recovery List (Recovers from a Power Failure)
---
Our Review:
JustKaraoke is a karaoke hosting application that offers all the features required to run a professional karaoke show while maintaining a user friendly interface which also makes it great for home users. This program requires little in system resources and will run well on even older computers. JustKaraoke will create a database of the karaoke song files on a hard drive. File types that can be imported are AVI, DAT, MP3, MP3+G, M4V, MP4, WMA, WMV, and Zipped MP3+G. These songs can be searched for by Artist, Title, or Catalog Number (if included in the file name) and added to a singer's song request list. The key control setting can be made when adding a song. One of the greatest features of karaoke hosting software is Singer History. The program maintains a database of all singers who have performed songs along with every song they have performed. Singers may also be filtered by venue. The Singer Rotation feature lets you organize the singers and their requested songs. You can choose to display a "Next Singer" ticker on the karaoke screen. Ambient Music is actually filler music that plays at a lower volume between karaoke songs. You select the standard songs to add to the list and they will play randomly (between karaoke songs) at a set volume level. Utilizing the extended desktop feature of your computer, the dual monitor support allows you to display the controls on one monitor and the karaoke screen on another. For a monthly fee, and with an internet connection, you can subscribe to an integrated karaoke song streaming service of over 10,000 songs. Alternatively (or concurrently) you can opt to purchase individual songs from a library of over 70,000 karaoke songs.
Pros:
Easy to use. Song import feature is simple and fast. Very stable and runs well on older computers.
Cons:
Does not play discs.
---
Buy this program or download the demo version at...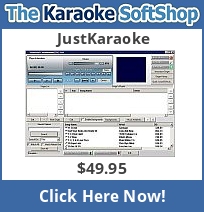 ---
Comment about this item: