Karaoke USA GF830 DVD/CDG Karaoke Machine Review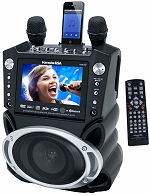 I must say that we really like this system. You will be hard pressed to find a comparably priced all-in-one system with more features. It will play CD+G discs, DVD discs, and even MP3+G discs and files, which is a great feature because a standard CD can hold hundreds of MP3+G karaoke songs. It also offers surprisingly good sound and power for a unit this size.
Supported Disc Types
Plays CD+G, DVD, MP3, and MP3+G discs.
Supported File Types from an SD Card or USB Flash Drive
Plays AVI, MP3, and MP3+G files.
This is an important feature as it will allow you to play MP3+G songs downloaded from the internet without needing to create a disc from them.
7" TFT Color Screen
Displays graphics from CD+G discs and MP3+G files. Displays video from DVD discs and AVI files.
Bluetooth / Wireless Connectivity
Connect your Bluetooth capable device to the player wirelessly and play audio from the device through this karaoke machine.
Record Vocal and Music Mix
While performing a song from a CD+G disc, SD Card, or USB flash drive, you can record the performance and save it to an SD Card or USB flash drive as an MP3 file. You can play back the recording on the machine or save it for any other use.
20 Peak Watt Power Output
This is actually impressive for a machine this size. Certainly not enough power to cover a room full of noisy guests but quite sufficient for practicing at home or entertaining a few friends.
Analog Echo Control
Adjustable effect that enhances the sound of the vocals coming through the microphones.
Digital Key Control
Allows you to adjust the key of the music up or down by half key steps without affecting the tempo. Easily set with Key+ and Key- buttons.
Microphones
Comes with 2 microphones and 2 microphone inputs with separate volume controls.
Music Controls
There are volume, tone, and balance controls for the music.
Remote Control
All the functions of the unit can be controlled with the hand held remote.
Audio/Video Outputs
Audio and video RCA outputs let you connect this machine to a TV and/or sound system.
Audio/Video Inputs
Audio and video RCA inputs let you connect external audio and video devices to the karaoke machine.
Included Accessories
Two Dynamic Microphones... One AV RCA Cable... One iPod to RCA Adapter Cable... One MP3 Player/iPod Holder... One AC Power Adapter... One Remote Control... User Manual.
USB port can be used as a charger for mobile devices.
Pros:
Plays MP3+G files from a CD, SD Card, and USB flash drive. Plays DVD discs. Bluetooth connectivity for wireless streaming of audio from mobile devices. The 7" color monitor is larger than those on many other comparably priced systems. Performance recording. Good sound quality and power.
Cons:
Could have been built from sturdier material. No battery operation.
Summary:
The Karaoke USA GF830 DVD/CDG Karaoke Machine is suitable for practicing karaoke at home, making recordings, and entertaining a few friends. The ability to play MP3+G files from an SD card or USB thumb drive is a fantastic feature. The sound quality and volume from this machine are impressive for its size. The only really negative aspect we found with this unit is the light weight material the case is made of. Everything considered, this is a very good karaoke machine for the price.
Karaoke USA GF830 User Manual
---
Buy this item now at...
---
Comment about this item: