Keyrite Pro Review

Features:
All digital processing.
Pitch shift in up or down semitone half-note increments.
Open audio MP3, WMA or WAV files.
Open karaoke BIN, KMA, MP3+G, and Zipped MP3+G files.
---
Our Review:
Keyrite Pro does just one thing. It changes the key of audio files. Digital processing means that it does not change the tempo of the audio to achieve the change in key. Seriously speaking... that is no big deal. The key control feature on virtually every karaoke machine and karaoke file playing software is digital. So why would someone pay $49.99 for this software? I have no idea.
Pros:
Does what it's supposed to do.
Cons:
Overly expensive.
---
Buy this program or download the demo version at...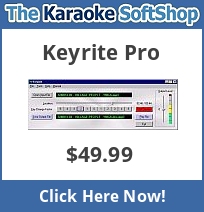 ---
Comment about this item: