Mackie THUMP15 15-Inch Powered Loudspeaker Review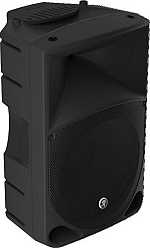 The Thump series is a budget line of Mackie speakers. Anyone who has experienced the more expensive Mackie SRM series would certainly notice the difference. This is not to say that the Thump series is not worth considering. They are a good speaker at a very good price. Those of you who seek a speaker with great bass response will love the Mackie THUMP15. The name suits them well. These 1000 watt speakers are actually bi-amped which means they have separate amplifiers for low and high frequencies. A precision 2-way crossover circuit time aligns the signals to keep low and high frequencies in sync. Built-in active compression protects the drivers by reducing the level of a signal when it rises above a certain threshold level. Thermal circuitry protects the amplifiers and power supply from damage due to overheating. The combo input accepts either XLR or 1/4" cable ends. An XLR output allows for speaker chaining. A 3-band equalizer lets you tune the output of the speaker for you specific situation. There's even a suggested EQ settings chart printed on the back of speaker.
The molded polypropylene cabinet is very rugged without adding a lot of weight. In fact, at just under 30 pounds theses speakers are a breeze to transport. The versatile design allows these speakers to stand upright, lye on their side like a wedge stage monitor, or fit a standard speaker stand pole.
Pros:
Good sound quality. Great bass response. Versatile cabinet design. Combo XLR and 1/4" input. Compact size and light weight. Reasonably priced.
Cons:
Heavy bass response is not for everyone.
Summary:
Heavy bass response is typically preferred when playing DJ dance music although many people like to incorporate that type of sound into their karaoke setup as well. For those people a pair of Mackie THUMP15 speakers, in conjunction with an audio mixer with on-board effects, should help make for a good sounding karaoke system for small to medium sized venues and home systems.
Mackie THUMP15 User Manual
---
Buy this item now at...
---
Comment about this item: