Power CD+G to Video Karaoke Converter 2 Review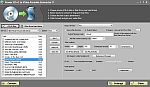 Features:
Convert CD+G discs to karaoke videos.
Convert BIN, MP3+G, and Zipped MP3+G files from your hard disc to karaoke videos.
Use AVI (DivX) or MPEG formats.
Apply image enhancement features that make CD+G look much better.
Use batch mode to convert many files at once.
Replace solid CD+G background with images or videos of your choice.
Automatically use sets of images, so every video has a different background.
---
Our Review:
There could be several reasons why you would want to convert your CD+G song tracks to videos. Maybe you want to be able to play them in most media players, use them to create a DVD, or possibly share them on a site like YouTube. One reason many people would want to convert them is so they can play them from an SD card or USB thumb drive in their karaoke machine. Most modern karaoke machines will play audio and video files from these storage devices but typically CD+G is not supported. Power CD+G to Video Karaoke Converter does an excellent job at converting BIN, MP3+G and Zipped MP3+G to video files. It also does it quickly. The enhancement options truly can make the graphics look better than the original. This program is very easy to use.
Pros:
Easy to use. Converts files quickly. Enhances the appearance of the graphics.
Cons:
None.
---
Buy this program or download the demo version at...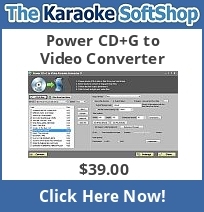 ---
Comment about this item: