Power CD+G Player Pro Review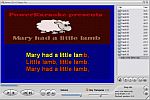 Features:
Plays CD+G discs on a computer with most CD/DVD drives.
Plays BIN and MP3+G files.
Create and save playlists.
Key Control allows to modify the key of the song to adjust it to the singer's voice.
Full Screen Button will enable full screen playback mode -- only the video window will be visible.
---
Our Review:
Power CD+G Player Pro is a basic CD+G disc and karaoke file player for your computer. It will play CD+G discs using
most
modern CD/DVD drives as well as BIN and MP3+G song files. The key control feature you change the key of the song up or down in semitone steps. Playlists can be created and saved. If all you are wanting is an easy to use software to play CD+G discs and song files on your computer then Power CD+G Player Pro is all you need. I would personally opt to spend just $10 more on
Siglos Karaoke Player/Recorder
and get a lot more features.
Pros:
Very easy to use. Works with most CD/DVD burners. Runs on all versions of Windows.
Cons:
No version for Mac computers. Does not play Zipped MP3+G files. No recording feature. No remote monitor support.
---
Buy this program or download the demo version at...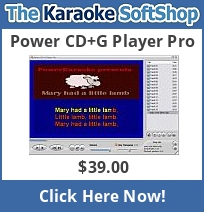 ---
Comment about this item: