Sakar Frozen CD/CDG All-In-One Karaoke Machine Review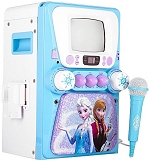 This is a very popular karaoke machine due in no small part to the popularity of the Disney Frozen movies. It is actually a CD+G player with a built in black and white monitor and some karaoke functions.
Disc Types Supported
This machine plays standard audio CDs and karaoke CD+G discs. CD+G discs contain music and graphics in the form of still images and shading in lyrics. CD+G is the most common type of karaoke disc and can be purchased from many department stores, however, the largest selection will be found online. All genres of karaoke music can be purchased on CD+G discs. Standard CDs will play in this machine but no lyrics will be displayed. A lid flips up on the top of the machine for loading a CD or CD+G disc. There's a selector switch on the front for selecting the type of input with choices of CD+G, CD, and AUX IN. There is a Play/Pause button and a pair of buttons for selecting the song track.
5 Inch Monitor
The 5 inch B&W screen will display the song lyrics when playing a CD+G disc only. While small, the screen size is adequate for displaying readable lyrics. There are brightness and contrast controls on the back of the unit.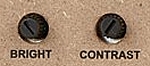 Microphone and Controls
The machine comes with one microphone but virtually any microphone with a 1/8" plugin can be used as a second one. There is a single volume control that controls both microphone inputs. The echo effect control also affects both microphone inputs. Echo is a a vocal enhancement that adds depth to the vocals. The balance knob allows to adjust the music to microphone volume level. One feature it doesn't have, that may not be a big deal for the age group that would use this machine, is key control which is used to change the key of the music to fit the singer's voice.
A.V.C. (Automatic Voice Control)
There is a type of karaoke CD+G disc called "multiplex". The songs on these discs are split into left and right stereo channels. The left channel contains only the lead singer while the right channel contains only the music. With a balance control you are able to mix the left and right channels to allow just enough lead vocals to help you learn to sing the song. The Automatic Voice Control feature automatically mutes the lead vocals channel when you start to sing through the microphone. When the singer stops singing, the vocals will resume to normal.
AUX Input
On the back of the machine there is a 1/8" stereo auxiliary input that allows you to connect an external audio source such as an iPad, iPod, iPhone, etc.. You can play audio only from these devices, and sing along with the microphone, but nothing will appear on the karaoke machine's monitor. There is a slot on the top of the machine, and a holder attached to the side, for holding a mobile device.
Audio/Video Outputs
Also on the back of the machine there are audio and video RCA outputs. These allow you to connect this machine to a TV and/or sound system. You may then play the audio (including the microphones) through your home stereo and display the lyrics on your TV. The CD+G graphics look much better in color so connecting this unit to a TV if possible is advised.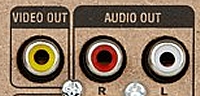 Power Supply
This unit does not run on batteries. It uses a 12 volt AC adapter that must be plugged into a wall outlet.
Included CD+G Disc
This karaoke machine comes with a CD+G disc that contains two songs "Let It Go," and "Do You Want to Build a Snowman" from the movie Frozen. The lyrics will be displayed on the monitor. The full soundtrack CD+G disc from that contains those two songs plus six more, as well as many other
Disney Karaoke CD+G discs
, can be found at Amazon.
Cheap Plastic Construction
The machine is made entirely of plastic and feels much like the toy that it actually is. Don't make the mistake of thinking you will be getting a rugged unit that will stand up to even moderate abuse or you will be disappointed. During our research we came across a good number of negative comments concerning just this. With that being said, you really can't expect much more for the price this machine sells for. It has some very nice features and should provide hours of fun if it is well taken care of.
Pros:
Even with the many available controls this system is very easy to use so even preschool aged children will be able to operate it after a little instruction. The sound quality is acceptable and can be enhanced by connecting the audio to a stereo system. The holders for the microphone and mobile devices are useful additions. CD+G disc playing is a big plus as this is the most popular type of karaoke disc, offers the largest number of songs, and are widely available.
Cons:
The case is not sturdy and is made of thin plastic. No key change.
Summary:
The Sakar Frozen Karaoke Machine is certainly designed for younger children. It is about what you should expect for a unit at this price. There is no doubt that children would get a lot of enjoyment out of this machine. Just don't expect a top quality karaoke machine as this is basically a toy. Something we noticed while researching this karaoke machine is that there are other machines made by this company that are identical to this one except for the case (theme). Two of these are the
Sakar The Voice CD/CDG Karaoke All-In-One Machine
and the
Hello Kitty 68109 CD Karaoke System with Screen
.
---
Buy this item now at...
---
Comment about this item: