Sakar The Voice CD/CDG All-In-One Karaoke Machine Review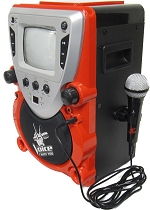 Features:
CD/CD + G Graphics Player
5" Screen
Master Mic Volume
Master Music Volume
A.V.C. Control
Echo Control
Balance Control
2 Microphone Inputs
1 Headphone Jack
AUX Input
Audio/Video Outputs
Microphone Holder
MP3 Player/iPod/iPhone Holder
---
Our Review:
The theme of this karaoke machine is based on the tv singing competition show "The Voice". Beyond that it is also a machine that offers some good features.
Disc Types Supported
This machine plays standard audio CDs and karaoke CD+G discs. CD+G discs contain music and graphics in the form of still images and shading in lyrics. CD+G is the most common type of karaoke disc and can be purchased from many department stores, however, the largest selection will be found online. All genres of karaoke music can be purchased on CD+G discs.
5 Inch Monitor
The 5 inch B&W screen will display the song lyrics when playing a CD+G disc only. While small, the screen size is adequate for displaying readable lyrics.
Microphone and Controls
The machine comes with one microphone and virtually any microphone with a 1/8" plugin can be used as a second one. There is a single volume control that controls both microphone inputs. The echo effect control also affects both microphone inputs. Echo is a a vocal enhancement that adds depth to the vocals. The balance knob allows to adjust the music to microphone volume level.
A.V.C. (Automatic Voice Control)
The vocals on the multiplex recording will be muted when the singer starts to sing through the microphone. When the singer stops singing, the vocals will resume to normal.
AUX Input
The auxiliary input allows you to connect an external audio source such as an iPad, iPod, or iPhone. You can play audio only from these devices and nothing will appear on the karaoke machine's monitor. There is a slot on the top of the machine for holding a mobile device.
Audio/Video Outputs
The audio and video outputs allow you to connect this machine to a TV and/or the sound system of your entertainment center.
Pros:
Even with the many available controls this system is very easy to use so even preschool aged children will be able to operate it after a little instruction. The sound quality is acceptable and can be enhanced by connecting the audio to a stereo system. The holders for the microphone and mobile devices are useful additions. CD+G disc playing is a big plus as this is the most popular type of karaoke disc, offers the largest number of songs, and are widely available.
Cons:
The case is not sturdy and is made of thin plastic. Does not play any onscreen karaoke formats from mobile devices. No key change. No record feature.
Conclusion:
The Sakar The Voice Machine is certainly designed for younger children. It is about what you should expect for a unit at this price. Many customer reviews suggest that children have a lot of fun with this machine. Just don't expect a top quality karaoke machine as this is basically a toy.
---
Buy this item now at...
---
Comment about this item: