Samson Concert 88 16-Channel True Diversity UHF Wireless System Review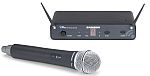 Features:
True Diversity Technology
16 Available Channels
1/4" and XLR Output Jacks.
LED Channel Display
On/Off/Mute Button
Transmitter Uses AA Batteries.
Range Up To 300 feet.
---
Our Review:
The Samson Concert 88 Wireless Microphone System is a good performer. It's rare to find true diversity with microphones in this price range. The on, off, or mute button is a nice feature.
True Diversity Technology
With a true diversity system, the receiver has independent sections, each having its own antenna that are spaced apart. The receivers are constantly monitored and the one with the strongest signal is selected. This helps prevent dropouts that can occur in some situations.
16 Selectable Channels
You won't need to worry about this system interfering with other UHF equipment you may have.
Pros:
Good and clear vocal reproduction. True diversity. Selectable channels. Good value.
Cons:
Light weight transmitter does not feel substantial.
Samson Concert 88 16-Channel User Manual
---
Buy this item now at...
---
Comment about this item: