Shure BLX24/SM58 Wireless System with SM58 Handheld Microphone Review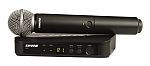 Features:
True Diversity Technology
One-Touch QuickScan Frequency Selection
1/4" and XLR Output Jacks.
Up To 14 Hour Battery Life.
Range Up To 300 feet.
---
Our Review:
The Shure BLX24/SM58 Wireless Microphone System delivers everything you would expect from this legendary microphone manufacturer. Excellent vocal reproduction and clear sound from the iconic SM58 capsule. Dependable wireless connection from its microprocessor controlled true diversity system. Of course you can always count on Shure mics for their rugged construction and durability.
True Diversity Technology
With a true diversity system, the receiver has independent sections, each having its own antenna that are spaced apart. The receivers are constantly monitored and the one with the strongest signal is selected. This helps prevent dropouts that can occur in some situations.
One-Touch QuickScan Frequency Selection
With the touch of a button the receiver will scan for the clearest available signal for the environment.
Pros:
Excellent vocal reproduction. True diversity. Very rugged and durable. Better than typical battery life. Very easy setup (works right out of the box).
Cons:
Nothing stands out.
---
Buy this item now at...
---
Comment about this item: