Siglos Karaoke Player/Recorder 2 Review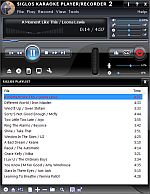 Features:
Play karaoke songs (MP3+G, ZIP or CD+G) with image enhancement features that make CD+G look much better.
Play CD+G discs from your computer's CD or DVD player.
Plays BIN, KMA, MCG, MIDI, MP3+G, and Zipped MP3+G files.
Plays all video files supported by Windows such as AVI, MP4, and MPEG.
YouTube karaoke video search and play.
Key Control allows to modify the key of the song to adjust it to the singer's voice.
Speed up or slow down the music and singing as you see fit.
Record yourself singing.
Listen to your recorded singing.
Save time - use playlists to manage and group your songs.
Full screen mode gives you the authenticate karaoke experience.
Dual monitors are supported: one to play on and one to manage.
Full support for Multiplex CD+G discs.
Play karaoke songs directly from YouTube.
Add your own image backgrounds.
Use video and/or live camera background.
---
Our Review:
Siglos Karaoke Player/Recorder will turn your computer into a karaoke machine and recording studio. You will be able to play CD+G discs and many karaoke file types along with video files. The YouTube search and play feature lets you find and play YouTube karaoke videos from right inside the program. The videos can be saved and added to a playlist. Key and tempo controls allow you to adjust the the music to your liking. The record feature includes an Audio Processor that lets you add reverb and mix your singing with the music. Recordings can be saved to your computer. Using the extended desktop feature of your computer, the dual monitor support allows you to display the controls on one monitor and the karaoke screen on another. We found Siglos Karaoke Player/Recorder to be user friendly with a small learning curve. Using a typical dynamic microphone were able to make good quality recordings and save them as MP3 files. The YouTube search and play is a fantastic feature as there are thousands of karaoke videos on YouTube. At just $49 this software is a really good value.
Pros:
Easy to use. Works with most CD/DVD burners. Runs on all versions of Windows. Recording feature works well. Dual monitor support. YouTube karaoke video search and play.
Cons:
No version for Mac computers.
---
Buy this program or download the demo version at...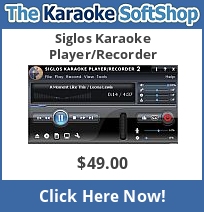 ---
Comment about this item: