Singing Machine SMG-901 CD/CD+G Karaoke System Review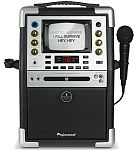 Certainly not the best system that Singing Machine has to offer. Sound is poor quality and distorts at higher volume. Microphone is very poor quality. We didn't care for the speaker being placed in the back of the machine.
Tray Loading Disc Player
Most systems in this range have "snap in" disc loading apparatus. This one has tray loading that many prefer.
Supported Disc Types
Plays standard CDs and CD+G discs. Only CD+G discs display lyrics on the screen.
5.5 Inch Black and White Monitor
The monitor is small and can be difficult to read the display. There are brightness and contrast controls on the back of the machine.
Microphone
There are two 1/8" microphone inputs with separate volume controls. One very cheap microphone comes with the system.
Digital Key Control
Allows you to adjust the key of the music up or down by half key steps without affecting the tempo.
Echo Control
Adjustable effect that enhances the sound of the vocals coming from the microphones.
Auto Voice Control
There is a type of karaoke CD+G disc called "multiplex". The songs on these discs are split into left and right stereo channels. The left channel contains only the lead singer while the right channel contains only the music. With a balance control you are able to mix the left and right channels to allow just enough lead vocals to help you learn to sing the song. The Automatic Voice Control feature automatically mutes the lead vocals channel when you start to sing through the microphone. When the singer stops singing, the vocals will resume to normal.
External Input Jack
1/8" stereo input allows you to connect an iPad, iPod, or other device to play music through the karaoke machine.
Audio/Video Output Connections
RCA outputs allow you to connect the karaoke machine to a TV and/or sound system.
Pros:
Plays CD+G discs which is the most popular type of karaoke disc. Has adequate controls for microphones and music mix. Can be connected to an entertainment center.
Cons:
Small B&W monitor is hard to read. Poor sound quality from the built in speaker. Cheaply constructed. Very low quality microphone. No battery operation.
Summary:
The Singing Machine SMG-901 CD/CD+G Karaoke System is a basic portable CD+G disc player that would be okay for kids to play around with or possibly for practicing some songs. For any other use you will want to connect it to a separate sound system and TV. There are other much better systems for about the same price. The
Akai Karaoke KS800
is one of them.
Singing Machine SMG-901 User Manual
---
Buy this item now at...
---
Comment about this item: