VocoPro DVD-SOUNDMAN 4 Channel Portable Sound System Review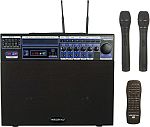 The SOUNDMAN is a big step up from the typical portable karaoke system. With 80 watts of power and the 4 speaker system this machine would be great for home karaoke parties. Features a built-in VHF module with two wireless microphones. This unit must be connected to a TV in order to view the lyrics from CD+G discs. At just about 30 pounds this system is easily portable.
Disc Types Supported
Will play standard CD, CD+G, DVD, MP3, and VCD discs by means of a tray loading disc player. It was disappointing to find that MP3+G discs are not supported.
File Types Supported
The one big feature this system is missing is a USB port with the ability to play MP3+G and other file types from a thumb drive.
5 Band Graphic Equalizer
This will let you fine tune the master output by adjusting low to high frequencies.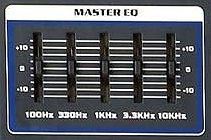 VHF Module and Wireless Microphones
The two wireless VHF channel
master
volume controls, antennas, and indicator lights are on the back of unit. Channels 1 and 2 on the front of the unit cannot be used simultaneously with the wireless microphones. This is to say that if a a wired microphone or instrument were to be plugged into channel 1 and/or 2 the corresponding wireless microphone(s) would be switched off.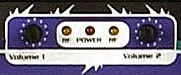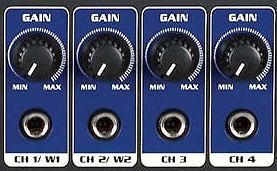 Digital Key Control
This feature allows you to adjust the key of the music up or down by half key steps without affecting the tempo. The key is changed with
+
and
-
buttons. The center button sets the key back to original.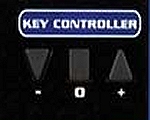 Echo Control
Controls the overall level for the Echo effect on all four channels. This effect gives resonance to the vocals. The control knob allows for increasing or decreasing the strength of the effect.

Mobile Device Input
A 1/8" stereo input on the front of the unit allows for connecting an MP3 player, iPad, iPod, or other device.
Auxiliary Audio Input
RCA inputs on the rear of the unit for connecting an external audio device. These are what you would use to connect a laptop to this system using an 1/8" stereo to dual RCA adapter cable.
Adding Additional Speakers
The Soundman does not provide powered outputs for passive speakers. The best way to add additional speakers is to connect powered (active) speakers to the Mixed output RCA connections on the rear of the unit.
Connecting a TV
There are three options for connecting the Soundman to a TV. A single composite video RCA output, an S-Video output, and component (YPBPR) RCA outputs. It's disappointing that there is no HDMI connection however you should be able to connect to virtually any TV with one of the three available options.
Remote Control
The remote will control most of the system's functions.
Pros:
Plays CD+G discs as well as DVD and other disc types. Integrated wireless microphone system. Good power and sound. Channels for connecting more microphones or musical instruments. Easily portable.
Cons:
Does not play the MP3+G format. No USB port.
Summary:
The VocoPro DVD-SOUNDMAN 4 Channel Portable Sound System has enough power on its own to effectively perform at home karaoke parties. Powered speakers can be added to cover larger venues. The wireless microphones are not high quality but are adequate for most home users. The Soundman can double as an amplifier for guitars or other instruments.
VocoPro DVD-SOUNDMAN User Manual
---
Buy this item now at...
---
Comment about this item: