Vogone Advanced Vocal Eliminator Review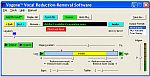 Features:
On-Screen Hold-My-Hand Steps Guide.
Remove Vocals at Center Stage Location.
Remove Vocals at any Stage Location.
Adjust For Quality Music.
Import CD Tracks Directly.
Process Karaoke Files: KMA, BIN, ZIP, MP3+G, WMA+G, WAV+G (lyrics remain in sync).
Process Audio Files: MP3, WMA, WAV.
Boost Music Bass & Treble.
Create 2-Track Monaural Files.
Create Stereo, Karaoke, or Multiplexed Audio.
Create or Reverse Karaoke Multiplex Songs.
Instantly Play Anywhere in the Song.
Boost the Volume.
Professionally Written Manual.
---
Our Review:
Virtually every vocal removal software application available works exactly the same way. They look to remove vocals panned in the center of a sound track. Doing this, they very often miss the vocals entirely or they also remove musical instruments mixed at the same vocal stage location. What you usually end up with are vocals that are clearly audible and severely degraded music. Vogone Advanced Vocal Eliminator is the exception. Not only will it remove center panned vocals, it will also allow you to locate and eliminate vocals that are staged off-center. At the same time it saves most music frequencies. Only Vogone allows you to decide how much vocal to remove, and how much music to keep. You can import audio tracks directly from CDs, process them, and save them as WAV files. Vogone has Bass Boost to increase the amplitude of the low frequencies, Treble Boost to increase the high frequencies, and Volume Boost, which lets you create high quality audio. Vogone Advanced Vocal Eliminator is a complex application that fortunately has a Hold-My-Hand script that automatically walks you through making each song the best. You are always free to bypass any of the steps to fine tune your results.
Pros:
Removes both center panned and off center vocals. Detects and helps to avoid removing music frequencies. Bass and treble boost.
Cons:
None.
---
Buy this program or download the demo version at...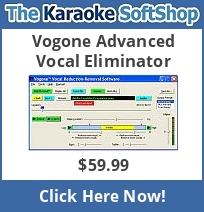 ---
Comment about this item: