Yamaha DBR12 Powered Speaker Review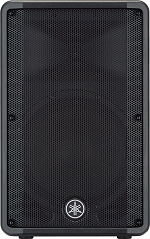 The entry point level Yamaha DBR series, while less expensive than the DSR and DXR series, still delivers that great sound we come to expect from Yamaha. The light weight molded plastic cabinets are designed for vertical or horizontal (wedge monitor) assignments. The grill is composed of sturdy stamped steel. The Yamaha DBR12 contains 2 amplifiers. One 800 watt amp for low frequencies and another 200 watt amp for highs. High-pass filters and response contouring keep the sound clean and clear. There are 2 XLR - 1/4" TRS combo input channels each having a level control. Channel 1 is switchable for microphone or line in. Channel 2 is line in and also offers RCA stereo inputs. The XLR output and be switched to include only channel 1 or both channels in the mix. The Yamaha DBR series speakers are excellent for rendering beautifully clear vocals which makes them ideal for karaoke applications.
Pros:
Great power and sound quality. Excellent vocal reproduction. Versatile cabinet design. Combo XLR and 1/4" inputs. Dual channels. Compact size and light weight.
Cons:
None stand out.
Summary:
Yamaha has long been the preferred brand for many professional karaoke hosts. A pair of Yamaha DBR12 speakers, in conjunction with an audio mixer with on-board effects, should help make for a fantastic sounding karaoke system for small to medium sized venues and home use.
Yamaha DBR12 User Manual
---
Buy this item now at...
---
Comment about this item: