Yamaha EMX212S 12-Input Powered Mixer Review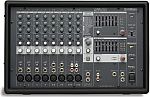 Yamaha has long been a leader in professional live sound. The EMX powered mixer series delivers intelligent lightweight amplifier technology, exceptional effects, and several other useful features. The dual 200 watt amps will provide enough power for small venues and home karaoke system applications. A total of 12 input channels - four for monaural microphone (include Phantom Power) or line input, plus four pairs that can function either as monaural microphone inputs or stereo line inputs - providing you with a versatile mix of input capabilities for a wide range of applications. Each channel has its own 3-band EQ controls and a FCL (Feedback Channel Locating) LED that identifies a channel that might be causing feedback. Yamaha SPX digital effects are widely acknowledged as being among the highest quality available. The EMX212S provides 16 on-board SPX effects. 7 band graphic equalizers are provided for both the main and monitor channels. There's a stand-by mode feature to mute all mono channels while leaving the 2-track inputs active for background music playback while you're taking your break. If you use this powered mixer with Yamaha speakers (which we recommend) you can take advantage of the YSP (Yamaha Speaker Processing) feature that provides optimized matching with Yamaha Concert Club series or BR series speakers. The FCL (Feedback Channel Locator) system makes it easy to locate and eliminate feedback. Each channel has an indicator that lets you know which channel the feedback is occurring on. The knobs, buttons, and slider controls of this unit have the feel of quality. The case does not appear to be constructed of heavy material but still feels like it would be rugged and durable.
Pros:
Easy to set up and operate. SPX digital effects. Feedback channel detection. Both Speakon and 1/4" speaker outputs. Compact size and light weight. Made from high quality components.
Cons:
None stand out.
Summary:
The Yamaha EMX212S is a high quality, dependable, powered mixer that is perfect for performing at smaller venues. The SPX effects are of the highest quality and can really enhance the sound of live vocals. Unlike the Behringer models, this unit has both 1/4" TS and Speakon power outputs. A good speaker match for this powered mixer would be a pair of
Yamaha BR10
passive PA speakers or the
Yamaha A12
passive PA speaker pair.
Yamaha EMX212S User Manual
---
Buy this item now at...
---
Comment about this item: