Akai KS-213 CD+G Karaoke Player with iPad Cradle Review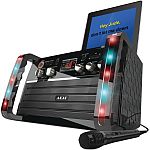 This player is about what you should expect for such a low price. It's a CD and CD+G player that displays some silly colored lights. The sound quality from the speaker is poor. Don't let the image mislead you... it does not contain a monitor... that is an iPad shown on top of the unit.
This player must be connected to a TV in order to display the lyrics from CD+G discs.
Disc Types Supported
The Akai KS-213 plays standard audio CDs and karaoke CD+G discs. CD+G discs contain music and graphics in the form of still images and shading in lyrics. CD+G is the most common type of karaoke disc and can be purchased from many department stores, however, the largest selection will be found online. All genres of karaoke music can be purchased on CD+G discs. Standard CDs will play in this machine but no lyrics will be displayed. A lid flips up on the top of the machine for loading a CD or CD+G disc. There is a Play/Pause button and a pair of buttons for selecting the song track.
Microphone and Controls
There are two 1/8" microphone inputs located on the back of the machine. A single volume knob controls both microphone inputs. The echo effect knob also affects both microphone inputs. Echo is a a vocal enhancement that adds depth to the vocals. The balance knob allows to adjust the music to microphone volume level. There is no key change feature. This machine comes with one microphone. Virtually any microphone with a 1/8" plugin can be used as a second one.
A.V.C. (Automatic Voice Control)
There is a type of karaoke CD+G disc called "multiplex". The songs on these discs are split into left and right stereo channels. The left channel contains only the lead singer while the right channel contains only the music. With a balance control you are able to mix the left and right channels to allow just enough lead vocals to help you learn to sing the song. The Automatic Voice Control feature automatically mutes the lead vocals channel when you start to sing through the microphone. When the singer stops singing, the vocals will resume to normal.
Line In Input and iPad Cradle
There is a Line In input on the back of the machine for plugging in an iPad and allowing you to play the audio from the iPad and sing along with a microphone. There is a cradle on the top rear of the unit for holding the iPad.
Audio/Video Outputs
Also on the back of the machine there are audio and video RCA outputs. These allow you to connect this machine to a TV and/or sound system. You may then play the audio (including the microphones) through your home stereo and display the lyrics on your TV.
Power Supply
The The Akai KS-213 may be plugged into a 120 volt electrical outlet or powered by 8
C
size batteries (not included).
Included Accessories
iPad Cradle, 3.5mm iPad Line-in Cable, AV Cable, one Dynamic Microphone, AC Power Cord, and Instruction Manual.
Pros:
Plays CD+G discs which is the most popular type of karaoke disc. Can be used as an amplifier for mobile devices. Will run on batteries.
Cons:
Has no built in monitor. Poor sound sound quality from speaker. No key change feature.
Summary:
The Akai KS-213 CD+G Karaoke Player is an unimpressive little CD+G disc player. It might be fun to play around with but there will always be the nuisance of having to connect it to a TV to display CD+G lyrics.
Akai KS-213 User Manual
---
Buy this item now at...
---
Comment about this item: