Karaoke Disc Player Reviews
Karaoke disc players are multi-format players that will play standard CDs, CD+Gs, DVDs, and sometimes other types of discs. Standard features include digital key control and microphone inputs. They will connect to your entertainment center just like a DVD player does. You could actually use one of these to replace the CD/DVD player of your entertainment center.
Below are some of the more popular units with the manufacturer's description.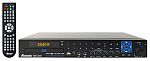 Acesonic BDK 2000 Blu-Ray Disc Multimedia Karaoke Player
This new model can now support hard drives larger than 2TB, and create digital recording you can save on your storage device. The Acesonic BDK-2000 is the world's first professional Blu-Ray Disc Player with Karaoke. It can play your favorite Blu-ray disc movies, karaoke discs as well as media files. There are many other features built-in that solidifies this player's spot as the center of entertainment in your home or venue such as BD-Live streaming, USB, and the ability to read, play and display many of your media file types. Simply make the HDMI connection to your HDTV or sound system, and insert your Blu-ray movie, burn your files onto a disc, or load them onto a USB device to get going.
---

Karaoke USA DV102 Karaoke Player
This sleek and compact piece of equipment is packed with useful functions. This karaoke player features a cradle for supporting an MP3 player and an SD card slot for recording karaoke performances. You can also route them to a USB device to provide additional storage. This karaoke DVD player has three types of auxiliary input modes. The on-screen song search is another useful feature. It plays DVD, CD+G, VCD, MP3G and JPEG formats. A disc with 100 MP3G songs provides enough material for many sing-along sessions. There are two microphone inputs for duets with individual volume controls. It has RCA input and both RCA audio and composite video outputs. The front panel offers easy access to all functions with navigation.
---

RSQ NEO22 Multi Format Karaoke Player
If you're looking for a karaoke player that can do it all, the Neo-22 is the perfect machine for you. This model is the latest installment to our highly successful RSQ line of Karaoke Players. Due to its multi-format capability and recording function the Neo-22 is currently one of the most sought after machines. Along with its great body this model was designed with high quality original JVC/RSQ tooling. Its design and system makes it easy to operate, record, and rip your music. Without doubt this machine is perfect for all Kj's/Dj's as well as Karaoke Aficionados.
---

VocoPro DVG777K III Multi-Format USB/DVD/CD+G Player
The DVG-777K III is a full featured multi-format karaoke and DVD player. With enhanced USB and SD card capabilities, you can easily access your digital music and video both at home and on the go. The DVG-777K III has been updated and now supports MP3+G!