Behringer Eurolive VP1520 Loudspeaker Review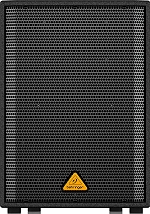 Behringer is noted for creating gear for budget minded consumers but this hasn't prevented them from producing good quality products. The Eurolive speakers are no exception. The wood composite cabinets are heavy duty and rugged. The Behringer Eurolive VP1520 speakers will handle 250 watts program (continuous) power and 1000 watt peaks. The 1.75" titanium-diaphragm compression driver produced clear and crisp highs. The lower frequency 15" long-excursion driver performed well. On the back of the speaker there are both 1/4" and Speakon inputs. There are also 1/4" and Speakon outputs for chaining speakers. The speaker cabinet trapezoidal design allows for to be positioned upright or on its side like a wedged monitor. On the bottom there is a 35mm pole mount.
Pros:
Good overall sound quality. Versatile cabinet design. Both Speakon and 1/4" inputs and outputs. Inexpensive.
Cons:
A bit heavy at about 50 pounds.
Karaoke Suitability
A pair of Behringer Eurolive VP1520 speakers, in conjunction with a powered mixer with on-board effects, should make for a good sounding karaoke system for medium to large sized sized venues.
Behringer Eurolive VP1520 User Manual
---
Buy this item now at...
---
Comment about this item: