GTD Audio U-35H UHF Wireless Microphone System Review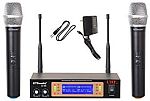 Features:
2 Channel Receiver with 2 Handheld Microphones
Back lit LCD Display Showing RF Level, AF Level, Channel Frequency
Individual Volume Controls On Each Channel
One 1/4" Mixed and Two XLR Individual Outputs
Individual Volume Control On Each Channel
Range: up to 300 Feet
---
Our Review:
The GTD Audio U-35H Wireless Microphone System is surprisingly proficient for its low cost. It lacks some of the features of the higher priced GTD wireless systems but should make a good addition to a home karaoke system.
Two Independent XLR Balanced Outputs vs One 1/4" Unbalanced Audio Output
Using two separate XLR cables and the XLR balanced outputs you have each handheld microphone assigned to a different channel of your mixer. This allows you to control the volume, tone, and effects of each microphone separately. Using the 1/4" unbalanced output forces you to assign both microphones to a single mixer channel.
2 Channel Receiver
Channels are set and not selectable. Keep this in mind when adding this wireless system to a sound system where other UHF devices will be used concurrently. Make sure the frequency bands do not overlap.
Range: up to 300 Feet
The 300 feet would be outdoors line of sight. Expect an indoor range of up to 150 feet.
Pros:
Decent vocal reproduction. Adequate range indoors and outdoors. Easy to set up. Good overall value. Uses AA batteries instead of more expensive 9 volt.
Cons:
Light weight transmitters don't feel very substantial. No true diversity.
---
Buy this item now at...
---
Comment about this item: