Karaoke DVD Burner Review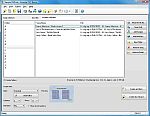 Features:
Create DVD discs with compilations of CD+G songs.
Convert several CD+G discs into single DVD karaoke disc.
Burn karaoke DVD discs using your computer's DVD writer.
Make discs containing hundreds of songs.
Burn MP3+G files to DVD karaoke discs.
Easily select songs from DVD disc using multilevel menus.
Create your own look and feel of karaoke DVD discs.
Scan hard disc for karaoke songs and place them on DVD disc.
---
Our Review:
Most DVD players will not play CD+G discs or MP3+G files. Karaoke DVD Burner is a program that will take song tracks from CD+G discs, and/or BIN and MP3+G files, and create a compilation DVD disc that will play in any DVD player. Songs can be sorted into folders and customizable menus can be created to make it easy to find the songs. We found this software very easy to use. To sort the songs and create menus took very little time to learn. There's even a wizard to help you along if you need it. We created a DVD disc just over a hundred song and there was plenty of room for more. You may be able to fit close to 300 songs on a standard 4.7GB DVD-R. Karaoke DVD Burner does exactly what it is advertised to do. We would have liked to seen a feature for setting the key of individual songs because a standard DVD player does not have key control. Beyond that, we think many that people will find this program useful.
Pros:
Very easy to use. Customizable menus. Fairly priced.
Cons:
No key change feature.
---
Buy this program or download the demo version at...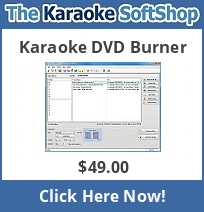 ---
Comment about this item: