Nady U-1100 HT 100-Channel UHF Wireless Microphone System Review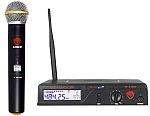 Features:
100 selectable UHF frequencies.
Auto-Scan feature offers a quick and convenient way to select an open channel.
Front panel touch control buttons.
Full front panel LCD display.
Rugged all ABS plastic housing.
Separate volume controls for each channel.
Squelch controls.
One Independent XLR Balanced Audio Output.
One 1/4" Unbalanced Audio Output.
Transmitter uses AA batteries.
Range up to 500 feet.
---
Our Review:
The Nady U-1100 HT is a high quality wireless microphone system. Excellent vocal reproduction, great reception, and virtually noise free operation. System automatically scans for the strongest open channel. A good option for those who don't want to shell out the money for a Shure system.
100 Selectable UHF Frequencies
This means you will never need to worry about this system interfering with other UHF equipment you may have.
Squelch Control Knobs
There are squelch controls for each microphone receiver. These adjust the sensitivity of the receiver and allow you to filter out weaker signals that may be causing interference.
Pros:
Excellent vocal reproduction. Selectable channels. Auto channel scan. Rugged design. Squelch controls.
Cons:
Not true diversity.
Nady U-1100 HT User Manual
---
Buy this item now at...
---
Comment about this item: