Power CD+G Burner 2 Review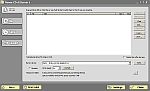 Features:
Creates duplicate copies of karaoke CD+G discs.
Creates custom compilation karaoke CD+G discs.
Creates CD+G discs from BIN, MP3+G, and Zipped MP3+G files.
Rips songs from CD+G discs to BIN, MP3+G, Zipped MP3+G, and WAV+G files.
Set the key change setting of a song before burning to disc.
Convert between BIN, KMA, MCG, MP3+G, and Zip file formats.
Retrieve the song and artist names for many discs using a FreeDB online database.
Works with most modern CD/DVD burners.
Print CD case labels with the built in label printer.
---
Our Review:
If you do anything with karaoke CD+G discs you need Power CD+G Burner. This utility application is as easy to use as it is useful. It burns karaoke discs that will play in virtually any karaoke machine and uses standard blank CD-R media. No "special" CD/DVD burner is required. Making an exact duplicate of a CD+G disc is as simple as copying the disc's contents to your computer and then burning them to a blank CD-R. To create a custom compilation disc you simply rip the songs that you want from various CD+G discs to the computer and then burn them to a blank CD-R in your preferred order. You can even permanently set the key change setting for each song before burning the disc. Back when the only way to get karaoke songs was by buying CD+G discs you were at the mercy of the disc manufacturers when it came to song choice. You would be forced to buy a disc full of songs just to get maybe one or two you actually wanted. Today most CD+G song tracks can be purchased as individual MP3+G downloads which of course means that you can be selective in the songs you buy. Power CD+G Burner will create CD+G discs from these downloaded songs so you can play them with you karaoke disc player. Power CD+G Burner is unsurpassed as a CD+G disc ripping utility. Easily rip the songs from your CD+G discs to a hard drive in the MP3+G or Zipped MP3+G format which are supported by virtually all karaoke software players and hosting applications. You can set the bitrate of the audio, and with an internet connection, you can automatically name the song files using a FreeDB online database. Power CD+G Burner runs on all 32 and 64 bit versions of Windows 2000, XP, Vista, 7, 8, and 10. Your CD/DVD burner must be MMC-compatible and support DAO/96 mode. Most modern burners meet this requirement.
Pros:
Very easy to use. Works with most CD/DVD burners. Runs on all versions of Windows. Creates key changed CD+G discs (exclusive feature).
Cons:
No version for Mac computers.
---
Buy this program or download the demo version at...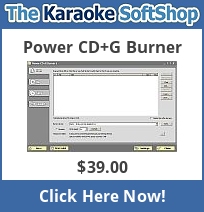 ---
Comment about this item: