Power SCDG Ripper Review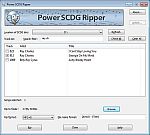 Features:
Choose songs from SCDG disc.
Save songs to BIN, MP3+G, or Zipped MP3+G files.
Use automatic naming for each song.
Use song filter and sorting to quickly find songs.
---
Our Review:
SCDG (Super CDG) discs are a creation of the CAVS company. These discs can be played only on CAVS karaoke machines. The songs on SCDG discs are actually compressed CD+G song tracks almost identical to the MP3+G format. Power SCDG Ripper will rip the songs from SCDG discs to BIN, MP3+G, or Zipped MP3+G files which are supported by virtually all karaoke software players and can be used to create CD+G discs. We found that Power SCDG Ripper does precisely what it is advertised to do and that it is very easy to use.
Pros:
Easy to use. Rips files quickly.
Cons:
None.
---
Buy this program or download the demo version at...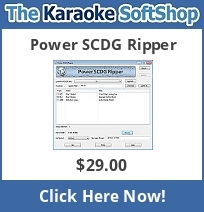 ---
Comment about this item: