VocoPro DVG777K III Multi-Format USB/DVD/CD+G Player Review

This player has been around for awhile. The latest model supports playing MP3+G files from a CD, SD card, or USB device. Professional karaoke hosts have reported dependability issues with VocoPro players, however, home users would not come close to putting the machine through the rigors that professional use would. The surround sound audio pre-outs allows for this machine to be easily integrated into an entertainment center.
Supported Disc Types
Plays CD, CD+G, DVD, MP3, MP3+G, MP4, SVCD, and VCD discs.
Supported File Types from SD Card or USB Device
Plays AVI, JPG, MP3, and MP3+G files.
Microphone Inputs
There are two 1/4" microphone inputs with separate volume controls and an echo effect control.

Digital Key Control
This allows you to adjust the key of the music to suit your voice without changing the tempo. The adjustments are in half key steps up or down (flat or sharp).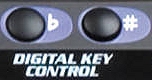 MPX Button
There is a type of karaoke CD+G disc called "multiplex". The songs on these discs are split into left and right stereo channels. The left channel contains only the lead singer while the right channel contains only the music. The MPX button will switch between the Left Mono, Right Mono, or Stereo (mixed) audio during playback.
Audio Outputs
RCA Left and Right Stereo, 5.1 Channel RCA, Coaxial, and Optical.
Video Outputs
Composite RCA, Component RCA, and S-Video.
Pros:
Plays standard karaoke disc formats. Plays MP3+G files from a CD, SD card, or USB device. 5.1 channel audio output. Easy to set up. Well written user manual with illustrations.
Cons:
No HDMI output. Does not play Blu-Ray discs.
Conclusion:
The VocoPro DVG777K III is a good quality karaoke disc player that does not offer a lot of bells and whistles such as disc ripping and performance recording. It does have the important feature of playing MP3+G discs and files. While we wouldn't recommend it for professional use, the home user should find this player to be a good addition to their entertainment center.
VocoPro DVG777K III User Manual
---
Buy this item now at...
---
Comment about this item: