Yamaha MG10XU 10-Input Stereo Mixer with Effects Review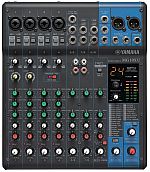 The name Yamaha is synonymous with high quality mixers, powered mixers, and speakers. The MG mixer series maintains that tradition. The 4 microphone inputs are the combination XLR-1/4" TRS type. We like that the phantom power to these inputs is switchable. The 4 mic channels have high, mid, and low EQ adjustment knobs as well as gain and volume level controls. The other inputs are 1/4" L/R stereo. This mixer employs the same D-PRE mic preamps that are found in Yamaha high end recording gear. This assures that all the character, depth, and feel of your original signal will be delivered. The on-board SPX effects processor provides a total of 24 reverb and delay effects to spice up the vocals. There are Stereo Out, Monitor Out, and Phones output connections. Bi-directional USB connectivity provides 2-channel recording and playback capability to a computer or iPad.
Bi-Directional USB
USB connectivity makes this mixer perfect for connecting to a laptop computer. The digital connection is superior to an analog connection. Bi-direction means that you can not only input the audio from the computer but also send the main mix back to the computer for recording. You would actually be replacing the computer's sound card with the mixer which is virtually always a great tradeoff.

Combination Mono Inputs
Channels 1-4 have these inputs which accept both 1/4" TRS and XLR cable ends. XLR connections have switchable +48V phantom power for condenser microphones. Each of of these four channels have Gain, High, Mid, and Low EQ, FX, Pan, and Volume Level controls. Channels 1 and 2 also have an audio Compression control.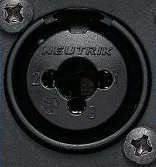 PAD and HPF Switches
The four mono input channels have PAD and HPF switches. Turning the PAD switch on will attenuate the sound input to the unit. This is typically not needed when a microphone is used for vocals. The HPF (High Pass Filter) switch will apply a high-pass filter that attenuates frequencies below 80Hz. This can be useful when speaking into the microphone to help reduce wind sound and vibration.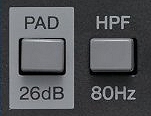 Stereo Inputs
These 1/4" TS inputs are for connecting line level devices such as a guitar, keyboard, etc.. The L input, if used alone, becomes a mono input.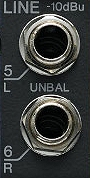 RCA Inputs
Channels 5/6 and 7/8 also have stereo RCA inputs for connecting a CD player, MP3 player, etc..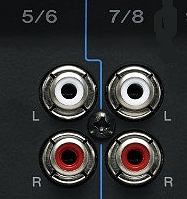 Stereo Outputs
We really like the fact that this mixer offers both 1/4" TS and XLR outputs. XLR allows you to use microphone cables to connect to powered speakers or a power amp. Notice that there are also Monitor TS outputs.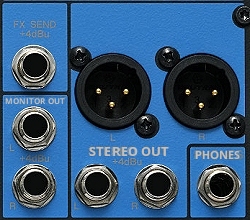 Built-In SPX Effects Processor
The high quality SPX effects processor has 24 selectable effect programs. A Parameter knob adjusts the depth, speed, etc. of the effect.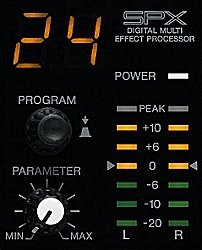 Pros:
USB connectivity. Phantom power for condenser mics. 4 combination XLR-1/4" TRS inputs. Superb sounding mic preamps. Built-in effects processor. Balanced XLR outputs. Reasonably priced.
Cons:
None stand out.
Summary:
Yamaha has been a preferred brand of professional karaoke hosts for many years. The Yamaha MG10XU is a very good mixer suited well for both the professional and home user. The SPX effects are top quality and can add some real flavor to your vocals.
Yamaha MG10XU User Manual
---
Buy this item now at...
---
Comment about this item: